Because terminal sterilization in cell therapy is not an option, the integrity of your drug product relies on the quality of your ancillary materials. We mitigate your risks by placing quality at the forefront of everything we do.

Akron has long maintained an industry-leading ISO 13485:2016-compliant Quality Management System, and continues to invest in its systems, partnering with leading provides such as TrackWise, Blue Mountain, Labvantage, Rockwell Automation, and Batch Master to continue raising the bar.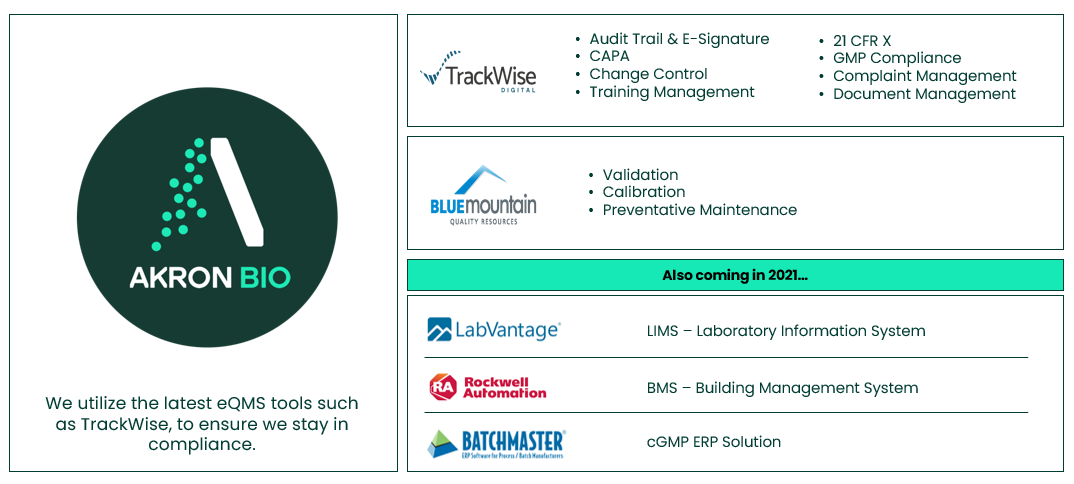 We manage a global manufacturing footprint comprised of cGMP-certified and soon-to-be cGMP-certified facilities. We manufacture our cytokines in a cGMP biopharmaceutical facility monitored by a competent national regulatory authority party to the PIC Scheme.
We lead the industry in generating robust filings that provide regulatory authorities access to our products' analytical testing procedures, characterization and release specifications, manufacturing process validations, stability programs, and other critical information while reviewing your regulatory filings. We support filings in the U.S. (FDA), Canada (Health Canada), Europe (EMA), and Japan (PMDA).
We recognize that quality involves more than best-in-class systems and global filings. It requires a commitment to industry partnership in the design and implementation of standards. We co-founded the Standards Coordinating Body, and have collaborated on the development of countless ISO standards and groundbreaking publications defining novel approaches to risk mitigation in raw material qualification.